Discover the Blue Mountains
Bring some fun to your holidays
Attractions
Rain, hail or shine there is always something to do in the Blue Mountains.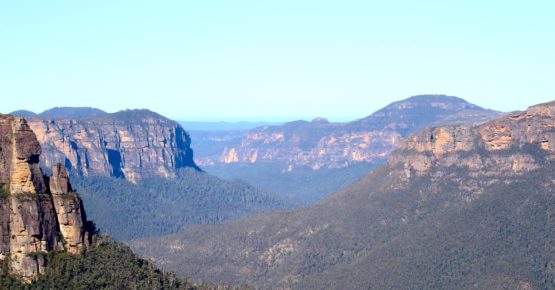 Govett's Leap lookout
Located at the end of Govett's Leap Road is Govett's Leap lookout, which is possibly the second most popular vistas in the Blue Mountains. With a spectacular view of Govetts & Grose gorge the vertical cliffs drop 160 metres into the floor of the gorge.
Also at the end of Govett's Leap Road is the National Parks & Wildlife Heritage Centre, well worth a vist for it's displays, information leaflets, maps, books and advice. There is also an easy nature walk, The Heritage Track which starts from the centre plus a picnic area with BBQ facilities and toilets. Other all day nature walks are available with varying degrees of difficulty. More information can be obtains from the National Parks & Wildlife Heritage Centre.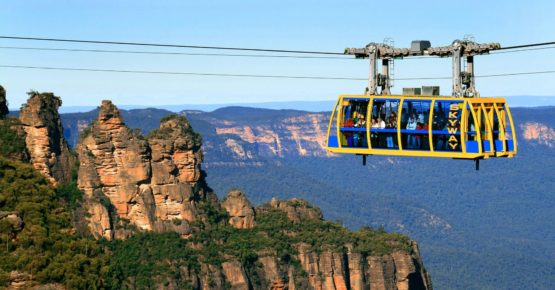 Scenic Skyway
The original Blue Mountains Scenic Skyway Cable Car started in 1958 but was replaced with a new cable car from Switzerland in 2004. The new cable car, the only passenger carrying horizontal cable car in Australia, holds up to 84 people and travels across the Jamison Valley 200 metres abouve the valley floor.
It has a floor that can become transparent at the flick of a switch offering excellent valley views. The breathtaking ride lasts for 7 minute and you will be amazed at the spectacular views of the World Heritage listed Blue Mountains including the Three Sisters and Katoomba Falls.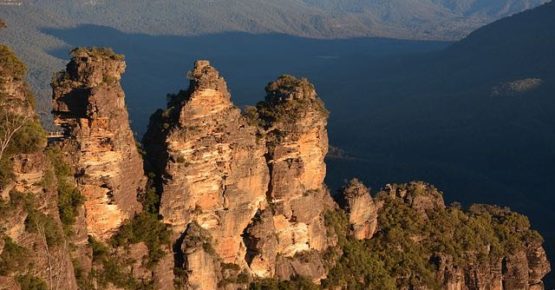 The Three Sisters
Don't think of leaving the Blue Mountains without a visit to the sensational Three Sisters. This amazing rock formation is a feat of natural beauty. The character of the Three Sisters changes throughout the day bringing out magnificient colours. The Three Sisters are flood lite at night and the aboriginal Dream Time Stories behind the Three Sisters is fascinating.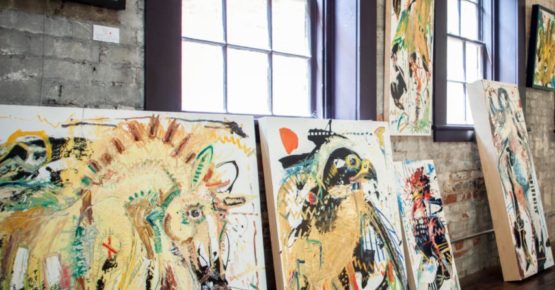 Art Galleries
A visit to the Blue Mountains is a must for anyone interested in artwork, especially that of the local artists that produce the splendid paintings, sketches, drawings, jewellery and sculptures in the Blue Mountains.
The Blue Mountains has always been an inspiration to the local artists and to new & inspiring artists arriving to the area. With historical significants dating back to the ancient cultures of the aboriginal people you can see where this inspiration comes from when you visit the stunning Blue Mountains. The sensational landscape lends itself to being captured within sculptures and paintings, jewellery and murals.
The local Blue Mountain artists and galleries are proud to display their fine artwork for all to see. Take the opportunity to immerse yourself in some culture by taking a tour through the Blue Mountains and visiting the numerous local art galleries.