How we escaped the Bushfires ….
Blackheath – and Glenella – escaped the Bushfires due to some superb fire fighting. The Grose Valley, which was an extension of the massive Gospers Mountain fire almost encircled Blackheath at its peak. We had helicopters water bombing, dozens of fire trucks lined up against the blaze, fire fighting planes dropping fire retardants, local fire crews dousing the flames, residents helping out, and the police blocking roads and door knocking to warn people to evacuate where there was risk to life and their homes.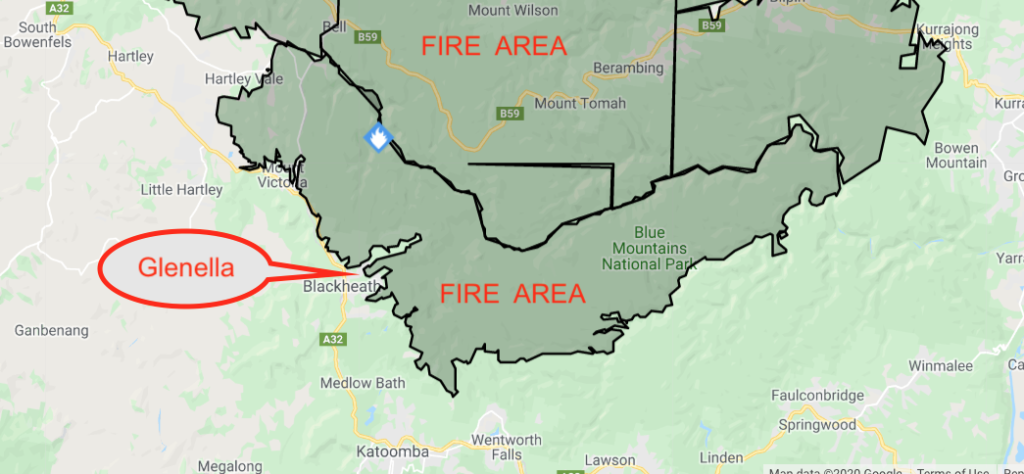 We prepared as best we could. We wrote up our Fire Preparedness Plan – then it was typed up, printed out, taped on our wall. So we knew exactly what we would do should the fires come close to Blackheath.
The first step was to prepare the property – clear all combustible items from around the house, including chairs and mats from the verandah. Pack an evacuation bag. And keep staff and upcoming guests informed as to the fire situation.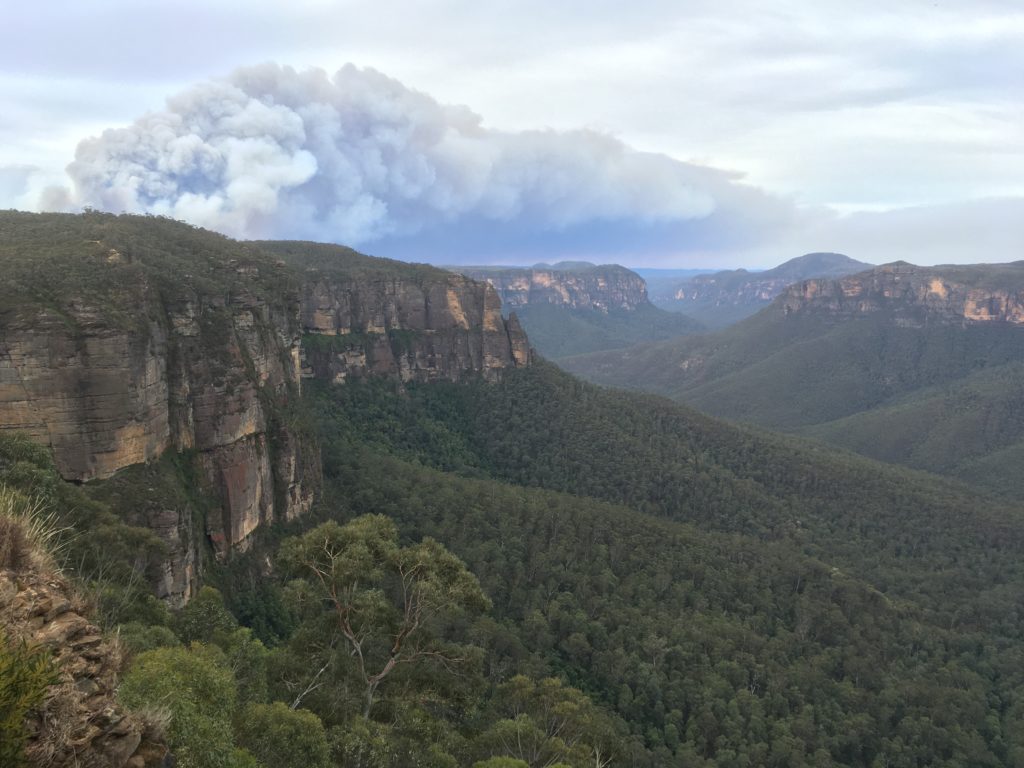 Our plan identified 2 Stages. Stage 1 – Close Glenella. Cancel guests and send staff to Sydney, with only us (Margaret and Rowan) remaining to protect the guesthouse from embers. Stage 2 – Evacuate, when the fire crews instruct us that it's too dangerous to stay.
On 20th December, the fire had reached the eastern end of Hat Hill Road and was approaching Govetts Leap Lookout. The weather was hot, dry and windy – perfect conditions for a fire to spread. We enacted Stage 1 of our Fire Plan. Guests and staff were asked to leave. We stayed to protect Glenella from embers – we could protect the property from embers, but not a fire.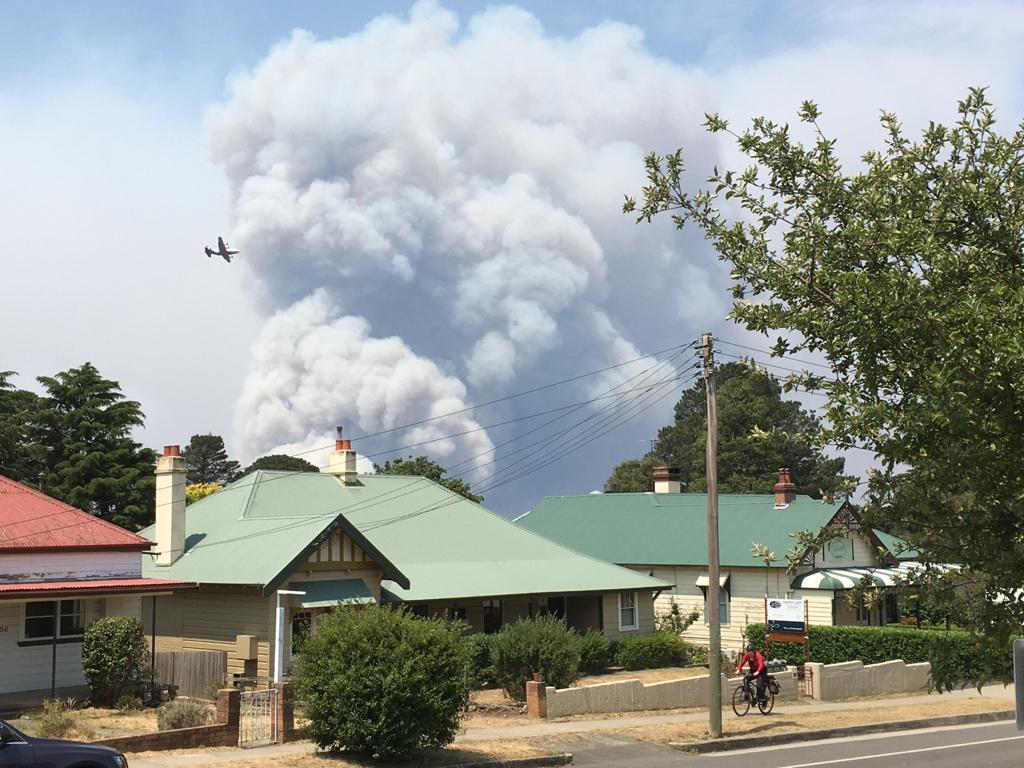 We prepared ourselves for fighting embers blowing onto Glenella (and our neighbours) by filling more than a dozen large buckets with water and placing them around the property. A towel or mop was placed in the buckets as stamping out an ember is more effective than throwing water on it. The hoses were ready and charged.
For days we endured heavy smoke, ash falling from the sky and the regular sound of fire truck sirens. On one count more than 20 fire trucks raced past Glenella to the end of Govetts Leap Road to control a blaze. Roads were closed in all directions. We received a 2am SMS from the Fire Emergency services advising us to leave if we were not properly prepared. We didn't leave, but we didn't sleep much either.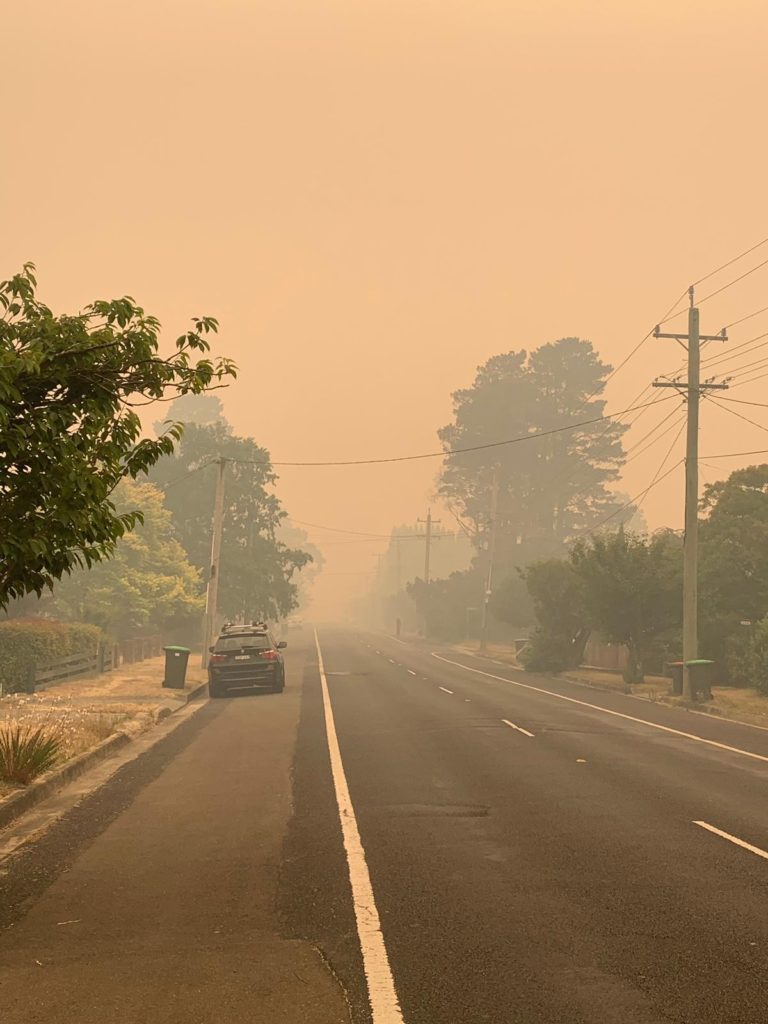 Most of you who are familiar with Glenella will be well aware that we are not directly adjacent to the bush, so what we would have been faced with would better described as a village fire. The risk is different, but some of the risks are exactly the same.
Typically with bushfires that are in the forests, the fire advances extremely rapidly, pushed by the wind which carries embers, often far in advance of the fire front. For properties that are in this position, new fires break out and speed up the advance of the main fire front where the professional and qualified volunteer firefighters are typically deployed. This is where homeowners often choose to 'stay and defend' their properties by dousing and stopping the ember attack. This is often very successful, but often not.
Not all properties have people on site to douse the flames, not all properties have been properly prepared – with flammable material left lying around to be easily ignited. This is why sometimes there seem to be random property losses with some neighbours homes 'miraculously' saved, yet others burned to the ground. Sometimes even leading to adjacent well prepared properties also being lost. This shows how fire prevention and preparedness really is a community effort in addition to National Parks, State forest, council and farmland owners. We tried to be good neighbours by preparing our property and keeping an eye on our closest neighbouring properties when we knew there would be no-one present.
One of the common risks everyone faces are of course when the fire arrives and one needs to evacuate. Power failures, telecom interruptions and very bad visibility often leads to chaos and huge risk. In our case we have only two ways out of the region – westwards towards Lithgow and Bathurst, or eastwards towards Penrith and Sydney. These roads can be, and in fact, were closed for brief periods of time which highlights how vulnerable communities can become – and it happens very quickly.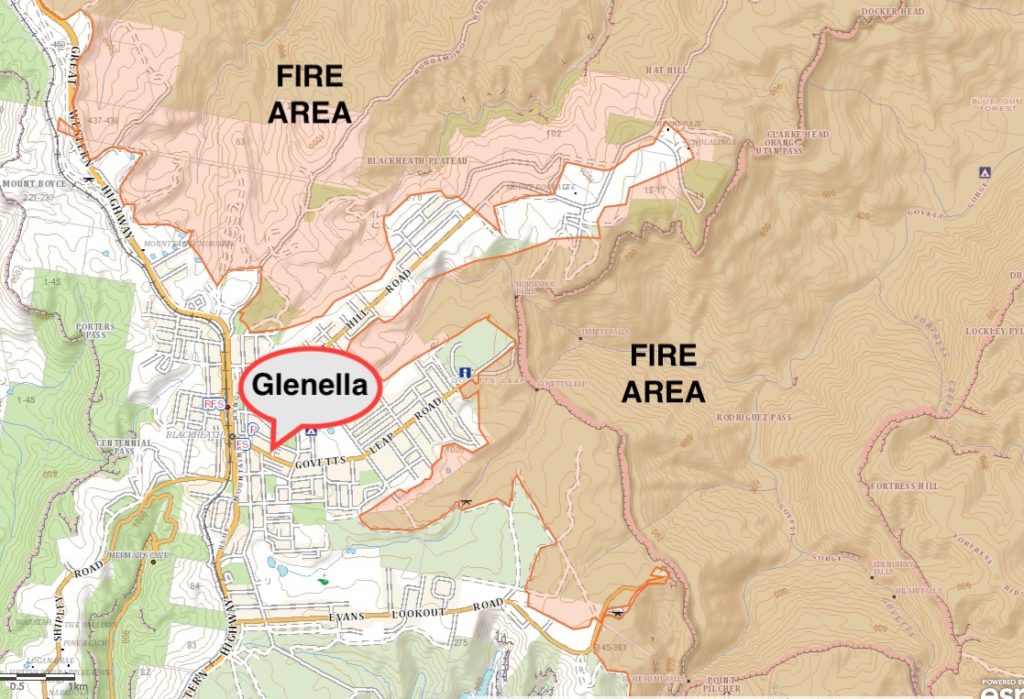 Miraculously the fire was controlled along the edge of Blackheath with very little loss of structures. No embers blew onto Glenella. We did not have to evacuate. But only due to the teams of remarkable fire crews who worked day and night to save our village.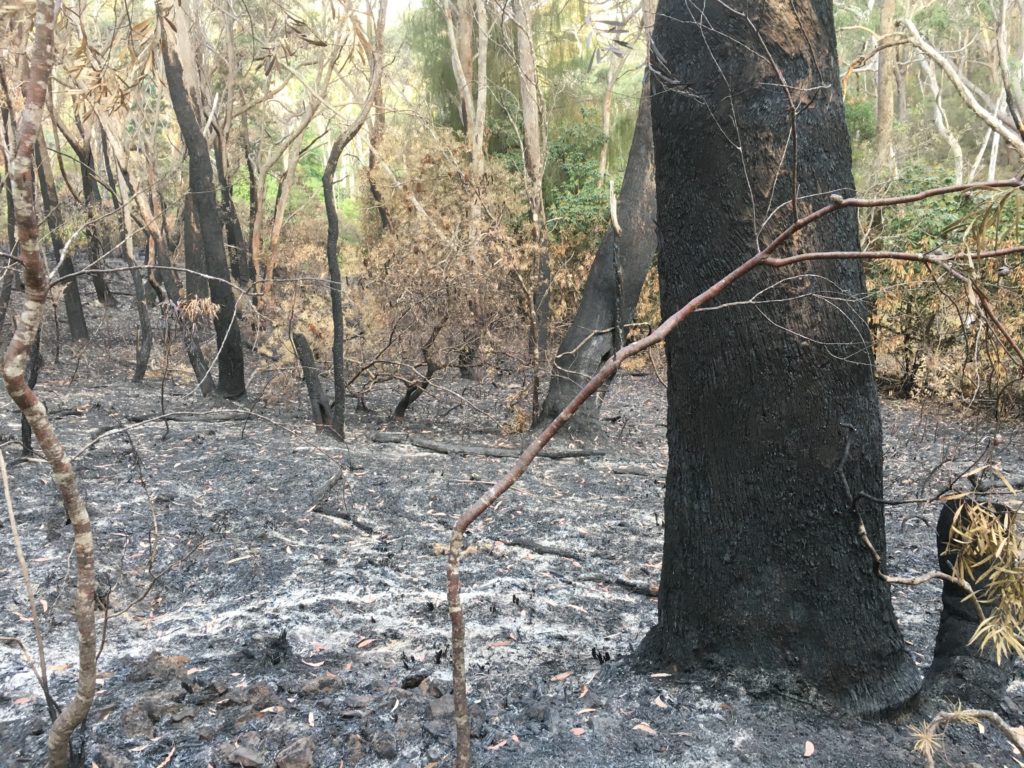 We mourn the loss of our favourite trails and lookouts – Hanging Rock, Braeside, Pulpit Rock, Govetts Leap, Evans Lookout, Popes Creek, Rhodo Gardens, Blue Gum Forest ….
We mourn the loss of wildlife, native habitat, ancient trees ….
But nature will recover, and soon we will see shoots of green appearing and we can witness the miracle of bush regeneration.