About us
Join us for a beautiful stay in the Blue Mountains.
We are Margaret and Rowan, originally from South Africa, the current owners of Glenella.
"we were both raised in and around Pietermaritzburg, the regional capital on the east side of South Africa. For us outdoorsy interested people, it's an ideally situated town in the midlands – halfway between the Indian Ocean and the mountains of the magnificent Drakensberg. Post school, Rowan studied electronic engineering, later moving into software development. Margaret qualified as a chartered accountant, and over time, began focusing on not-for-profit financial management.
Always looking forward, we sought out opportunities to broaden our horizons and to explore the world. From early working careers in Johannesburg and Pretoria, we moved to Silicon Valley in California and spent 5 years at the height of the IT boom and the subsequent crash. In 2003 we moved to Sydney, where we spent 10 amazing years prior to seeking out new pastures to take us away from the crush of the big city.
Towards this aim, at the end of 2013 we took a 5 month sabbatical, going travelling in Europe and South Africa and working out the next step. Along the way we cycled the Camino de Santiago pilgrim route through northern Spain, traveled 3 other countries in Europe, and soaked up the power and energy while in the African bush. We became inspired to start a new venture together.
To start, we wished to own a property and run a business that would combine our lifestyle interests and provide us with a sustainable, but not lavish, livelihood. We also hoped to surround ourselves with positive people and be somewhat sociable within our own sphere. In 2014, with our combined work experience and personal skills, no children, a property in Sydney as equity, fresh energy, and a desire to work hard, we embarked on finding the right property to buy in the Blue Mountains.
The opportunity to purchase Glenella came up in October 2014, and from there on, the journey towards realising a new future for both Glenella, our guests, team, and ourselves began …."
We are fortunate to have an amazing set of people who help us in many ways.
Currently helping us with keeping the Guesthouse running smoothly are Ella & Roc (from Shanghai), Julie (Vietnam), and Yin and Wing (from Hong Kong), and Debra (from Italy).
Learn how a Guesthouse operates.
You can contact us directly if you wish to fulfil that dream of knowing what it's like to operate a small hospitality venue. You can interact with an amazing set of guests and be a part of our team. You may join in as a Guesthouse host for a period of 2 to 3 months.
If you are traveller, or curious and motivated adventurer who wishes to spend some time in Blackheath learning a bit more about the Blue Mountains way of life, and the Guesthouse, please look us up on the website HelpX.net. If you are interested in an exchange, then please register with them and contact us through the HelpX site. Note that we have had over 150 helpers and it's a great experience!
Glenella Blue Mountains is more than just an accommodation venue, it represents some of the best Blue Mountains Guesthouse history around. This is recognised and Glenella is listed as a special place on the NSW heritage listings building database (ref.Bh095).
The original part of Glenella was built in 1904 by George Phillips, a carpenter by trade. George was a South Australian born of Welsh parents. The Philips family first moved to the Blue Mountains on account of the delicate health of one of his eight children. Over time, he purchased three allotments which accounts for the spectacular land and gardens that now surround Glenella. The building was expanded in 1915 to become the much larger Guesthouse present today, but has altered and flexed over the years.
To describe Glenella, the register includes this..
"Glenella displays some of the characteristics of the Federation Queen Ann Style and has features such as:
A hipped roof covered with corrugated iron
Walls lined with rusticated timber weatherboards
A verandah with a bullnosed corrugated iron roof
Turned timber posts
Timber window joinery
Beautiful stained glass windows"
Glenella Guesthouse has been an important focus of tourist activity in Blackheath since 1915.
After the extensions in 1915, the Guesthouse was managed by Elizabeth Phillips and her five daughters. A two story section downstairs was later added in 1917 to accommodate up to 60 guests as the tourism trade flourished in the Blue Mountains. Glenella was built, owned and run as a guesthouse for many years by the Phillips family. After the deaths of George and Elizabeth, both in their eighties, the guesthouse was run by their daughter Leila and then by one of their daughter-in-laws, Laurel.
In 1973 Glenella was passed out of the possession of the Phillips family when it was sold to Michael and Monique Manners, where, during the early part of the 1980's the Glenella Restaurant of the day achieved one of the the highest reputations for fine dining Australia-wide.
Since the era of Michael Manners ended in 1988, there have been a succession of Guesthouse owners who have continued offering classic Glenella hospitality, guest experiences and dining of various types.

We made it on the Sydney Weekender show!
Together with AusWalk (Australian Walking Holidays) we hosted the team from Channel 7.
View the feature here:
See article and Video here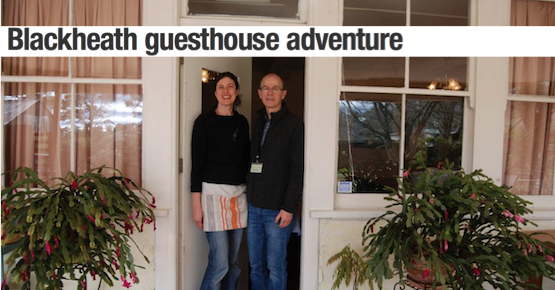 Glenella, the historic guest house in Blackheath, is opening a new lower-cost accommodation wing aimed at outdoor sport enthusiasts.
Owners Rowan and Margaret Bouttell are hoping ….
Click on the picture above to read more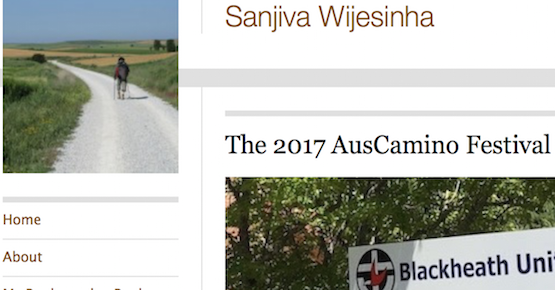 Some great coverage here by one of our guest presenters and festival attendees, Dr. Sanjiva Wijesinha – Writer and Physician.
Click on the picture above to read more
More info here --> FAQ's
Answers to common questions
Is breakfast available at Glenella?

Glenella guests are able to prepare their own breakfast in the Glenella shared kitchen.

What breakfast options are there if I don't cater for myself?

Glenella is literally a few minutes walk into the village of Blackheath. There you can choose from a number of great cafe's and have a choice.

Alternatively we have a continental breakfast pack available each morning from 8am which you can order the night before. Cost is $10

Do you cater for children?

No. We endeavour to provide a relaxed environment for our guests to enjoy the unique Blue Mountains Guesthouse experience. For this reason we do not cater for young children and babies.

How can I get from Sydney International Airport to Blackheath?

There is a train service directly from the airport to Sydney Central Station.

From Sydney Central station, transfer to a train on the BLUE MOUNTAINS line which will take you to Blackheath in approximately 2 hours 15min. Trains generally depart every hour from Sydney.

From Blackheath station it is about 400m to the Glenella front door.

Note – you will need an OPAL card to use the train, which you can obtain at the airport.

Do we need a car in Blackheath?

Many of the attractions are within walking distance, so for a short visit – no car is needed.

There are other transport options available including the train to nearby villages, and Sydney, plus buses, taxis and tour/shuttle companies.

Can I rent a bike or a car in Blackheath?

Please search online for car rentals.

There are options for hiring taxis, shuttles and tours available nearby.

Glenella has a range of 'transporter' bicycles which may be hired for a very reasonable rate. These are basic mountain bikes suitable for riding around the Blackheath area and to the numerous viewpoints and lookouts. The most popular and most recommended ride is to Hanging Rock, which is not accessible by car and best reached by bike.